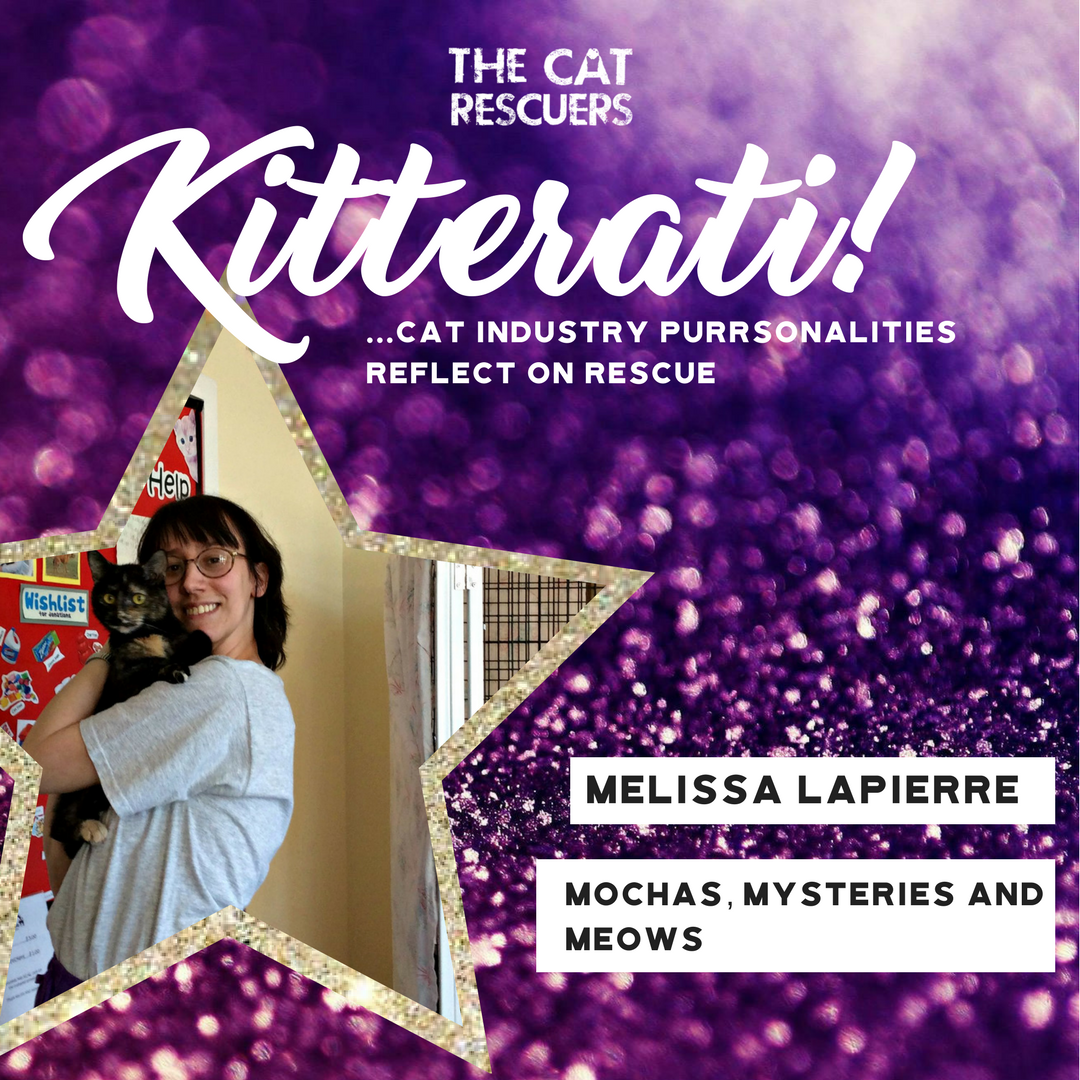 Welcome to Kitterati, where we regularly feature a different purrsonality in the cat industry, spotlighting their work and getting to the heart what cat rescue has meant to them on their journey. 
Today we introduce you to Melissa Lapierre of Mochas, Mysteries and Meows!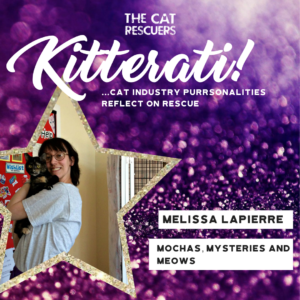 I live in northern Vermont with my precious little tortie Mudpie. I've been blogging since 2011 at Mochas, Mysteries and Meows (
www.mochasmysteriesmeows.com
) about all things cat: from cat books to cat lady style to health and nutrition to Mudpie's interview series with rescue cats who have amazing stories to tell!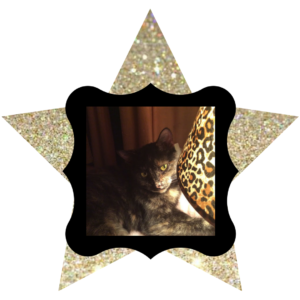 All my cats through the years have been rescues who will live in my heart forever. My best friend throughout my entire childhood was
Patch
, rescued by my parents as a 3 month old kitten from the family farm;
Sebastian
became a member of our family after being neglected by a neighbor;
Sashi
was 9 years old when I adopted her from a rescue group, admired by many but passed by because of her age. We had 8 wonderful years together.
Tara
was adopted at age 7 and she had a multitude of health problems that we faced as a team: diabetes, congestive heart failure, and a mass on her spleen. She's the one who inspired me to start blogging about cats and sharing what I'd learned while taking care of her.
In 2013 I adopted my youngest cat ever, Truffles was 2 and I was looking forward to many years with her until I lost her at only 4 years old to a saddle thrombus blood clot, two years to the day, almost to the hour, that Tara passed away. With a shattered heart I adopted Mudpie, who is pure joy in every way. She's the light of my life.

Anjellicle Cats Rescue
is one of the amazing groups that pulls cats from the NYC ACC. They quite often save cats who need extra TLC and medical attention before being ready to find their forever homes; cats that would otherwise never have a chance of making it out of the ACC alive.

I'm fortunate to live in a part of the country where the need isn't as great. We have amazing shelters that aren't forced to euthanize due to lack of space. We're even able to regularly pull animals from southern kill shelters and have been told it's incredible how quickly animals are adopted here.
While I'd love to volunteer to clean cages and socialize cats or open my doors to a foster, that's just not in the cards for me right now so I was so excited when Anjellicle Cats Rescue put the word out that they were looking for fundraising volunteers to help collect online pledges. These are much-needed funds that allow ACR to continue to save the lives of these unfortunate cats who find themselves on death row.
This is volunteer work that can be done from many miles away whenever I have a spare moment at the computer, and until time allows me to get more "hands on" with volunteer efforts I'm so happy to be making a small difference for cats from the comfort of my own couch! We can all do *something* to help!

Every cat is special, and every cat's life matters. When humans fail cats, it's the cat who ends up suffering. So many people wrongly believe that because cats are more independent they don't need us the way dogs do. Nothing could be further from the truth. Failing to spay/neuter your cat and leaving them outside to fend for themselves is not only irresponsible, it's cruel.