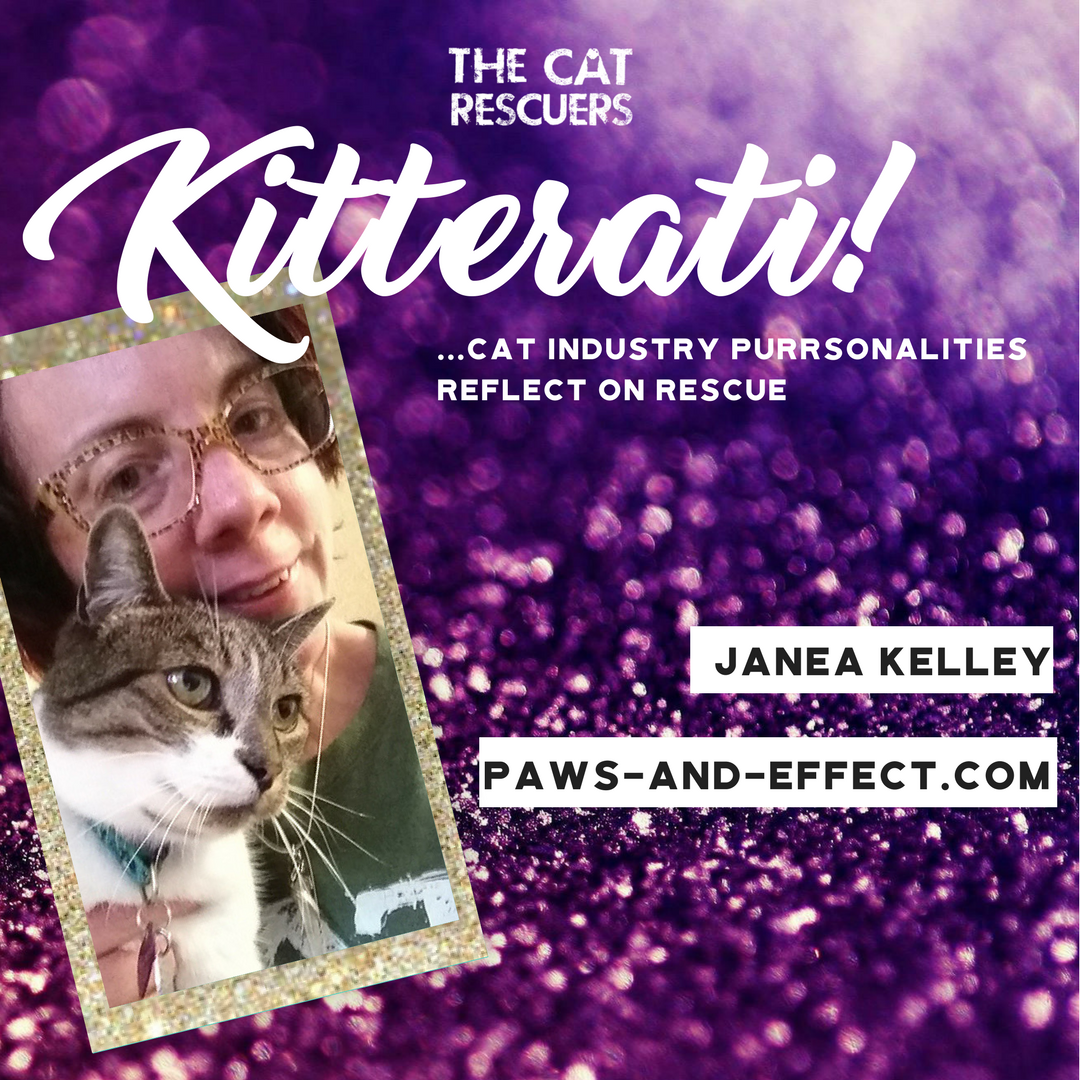 Welcome to Kitterati, where we regularly feature a different purrsonality in the cat industry, spotlighting their work and getting to the heart what cat rescue has meant to them on their journey. 
Today we introduce you to JaneA Kelley of Paws-And-Effect.com!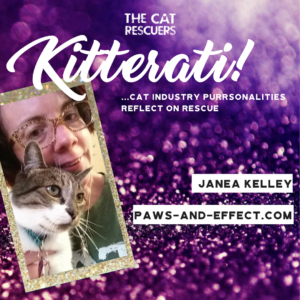 I live in the Pacific Northwest with my three feline companions, Thomas T. Bombadil, Belladonna Moonshadow Kelley, and Tara Wilhelmina Kelley. I've been blogging about cats since 2003, and you can find me (and my cats) on the web at 
http://www.paws-and-effect.com
.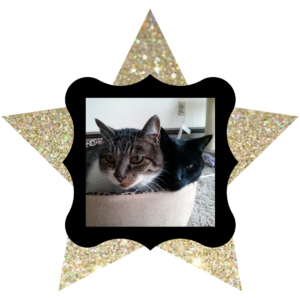 All my cats are rescues, and they all stole my heart. But today I'll tell Thomas's story. When I first met him back in 2004, he was a 3-year-old guy who'd just lost his person, and he was so heartbroken that he got really sick with an upper respiratory infection. When I met him, his nose was covered in snot and he could barely breathe, but when I reached into his cage in the isolation room and started to pet him, he tried his best to purr. It was right then that I fell in love with him. I followed his progress through his recovery, including one very rough spot where they had to rush him to the vet because he wasn't eating, until the day he was adopted by another family. I was sad that I wouldn't get to have him in my family, but I was happy for him that he'd found a home.
A couple of weeks later, I got a call from the shelter: "Are you still interested in Thomas?" the lady asked. "Yes, absolutely!" I said. "What happened to him in his other home?"
It turned out that he'd been fighting with the other cats in the home and the people who adopted him had returned him to the shelter as a result. I went to the shelter the very next day to pick him up. The first week or so, he was really scared and refused to come out from a tiny, dark corner in my office. But eventually, with love and compassion, he began to explore my home and meet my two other cats–with whom he got along famously! Thomas is 16 now, and he's the sweetest and kindest cat you could imagine. He has kidney disease, but we're managing it well and I suspect he'll be around longer than I thought he would in the days following his diagnosis.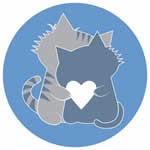 Diabetic Cats In Need
is a volunteer-run organization that works throughout the U.S. and Canada. As part of their mission to keep diabetic cats in their homes, they provide education, support, and financial assistance to people with diabetic cats. DCIN also arranges for rescue of diabetic cats in open-admission shelters (where they would otherwise be euthanized), and transportation of diabetic cats to foster and forever homes.


I volunteered with
HART of Maine
, a volunteer-run shelter in southern Maine. At first I was a cleaner, which meant a lot of mopping, wiping, and litter box scooping, but I was soon "promoted" to meds assistant. I medicated cats with a variety of conditions ranging from diabetes to hyperthyroidism to upper respiratory infections, and I learned how to administer just about every kind of medication you can give a cat. I adopted my cat, Belladonna, from HART–who could blame me? I fell in love with her the moment I saw her!

I wish more people understood that behavioral problems in cats are largely due to insecurity about territory or about their homes. Inappropriate urination, for example, is the number-one reason cats are surrendered to shelters. But it can be resolved if you understand that the cat isn't peeing where he shouldn't because he resents you, but because of a medical condition or because of territorial stress.

Website: www.paws-and-effect.com
Facebook: facebook.com/pawsandeffect
Twitter: @pawsandeffect