For a very limited time, we can offer the following rewards for anyone who was not able to participate in our Kickstarter campaign.
$50: Tote bag (choose one of 3 designs) + Digital Download
$100: Tote bag (choose one of 3 designs) + Lapel Pin + bumper sticker (choose one of 3 designs) + Signed DVD or Blu-Ray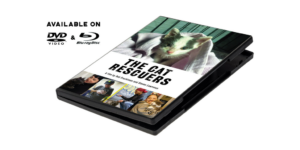 You have two options in order to make a contribution and sign up to receive your reward.
Send the funds via PayPal (pay to info@catrescuersfilm.com) or
Mail a check to us in the amount of all rewards, plus shipping:
US & Canada = $7 shipping
Europe = $12 shipping
Everywhere Else: $15 shipping
Make the check payable to:
24 Cats Per Second
530 76th Street
Brooklyn, NY 11209
PLEASE NOTE: Not all rewards are available for immediate shipping.  Refer to the estimated delivery dates on the Kickstarter page. If you order the $100 package above, your items will be mailed in two shipments, since the signed DVD or Blu-Ray will be available much later than the other items.