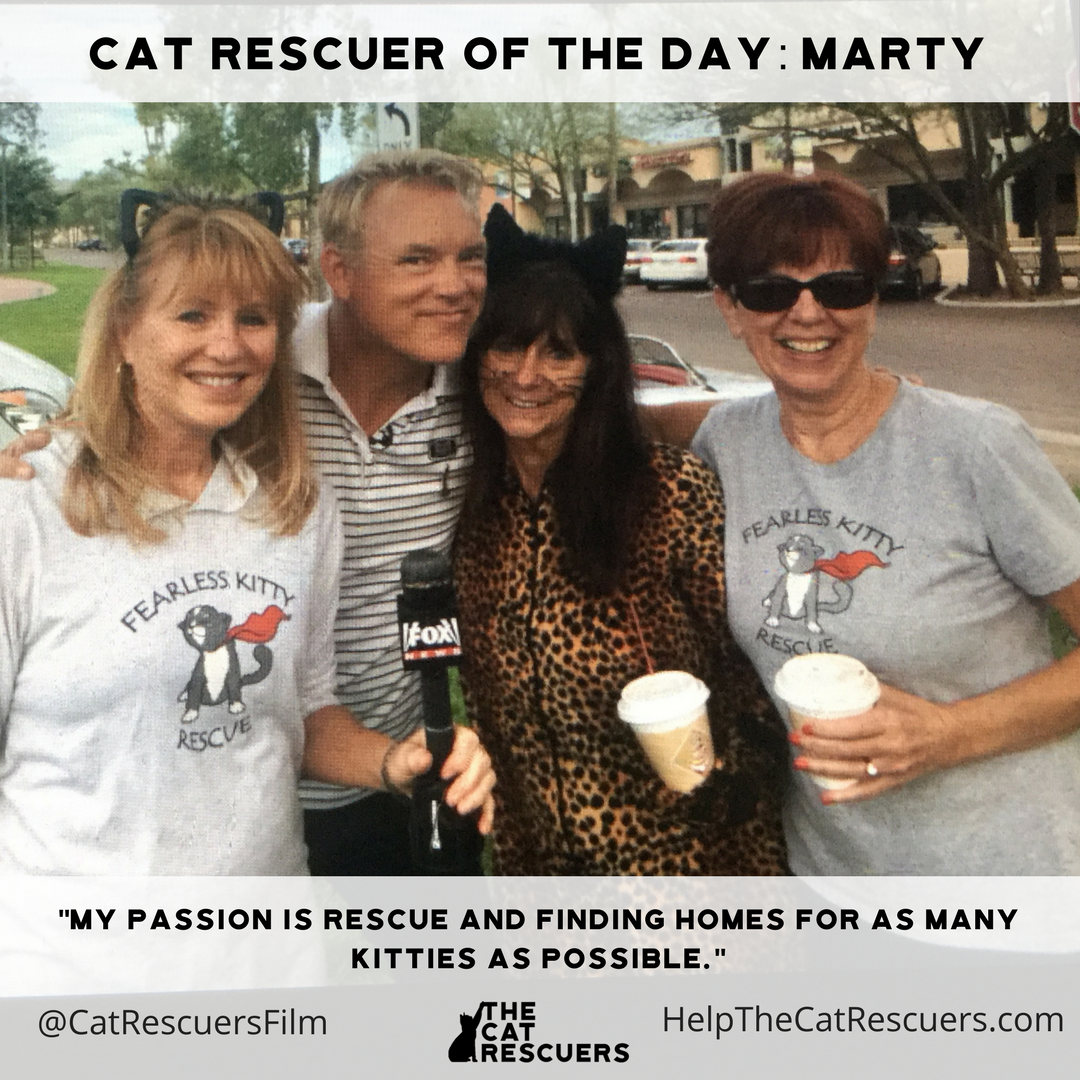 The Cat Rescuer of the Day
The Cat Rescuers is an upcoming documentary about four dedicated volunteers who are saving the lives of hundreds of abandoned and feral cats on the streets of Brooklyn.
Our film calls attention to a global issue being addressed by thousands of organizers and heroic human beings – those who do TNR, volunteer at shelters, take on fosters, what have you.  Since we could only put a fraction of those wonderful people in our film, we've created the Cat Rescuer of the Day program to celebrate the efforts of as many as possible.

Meet Today's Rescuer: Marty Rafenstein of Fountain Hills, AZ
Rescue Efforts:
I have been with Fearless Kitty Rescue four four years. I head the TNR team, facility manager, foster the tiny kitties to the wild ones and work to tame them, train new volunteers, do an Internet program, attend events and dress up as a cat as the mascot.
One Rescue I'll Never Forget Was…
We had a feral family who lived close to our facility. We trapped them and were able to adopt the kittens out, Mom and Dad were too feral so we released them. Over the next two years, the Daddy hung out on our patio and myself and another volunteer were able to pet him. Our facility was going to move and we had to make a decision to trap him and bring him or leave him. Our decision was made when we saw a big open cut on his paw. At the vet we found out he is FIV. He is in our facility safe and sound, learning to let others pet him and now big Daddy has another FIV kitty friend in their private room.. he has a special place in my heart.
One Thing I wish People Understood about Cats or Cat Rescuing Is…
I was amazed to know how many cats one unfixed cat can be responsible for in just seven years, let alone their entire life! Also, that a cat is not just a cat. They are just like humans, they all have their own personality. You need to choose a kitty that fits your personality, and not choose by the color of their fur.
When I'm Not Rescuing Cats, I Like to…
I enjoy working with the elderly. I love swimming, water sports, and golf.
I'm Looking Forward to  The Cat Rescuers Film Because…
My passion is rescue and finding homes for as many kitties as possible. I love to learn as much as I can and I believe this film will help inform many people on how important it is to spay, and neuter their own pets as well as the wild ones. Thank you?
Go follow Marty on Instagram (@AMalovescats). And be sure to follow @CatRescuersFilm on Facebook, Twitter and Instagram!
Browse previous Cat Rescuer of the Day Posts
---
Want to be Cat Rescuer of the Day?
Submit Your Answers Now to Be Featured!