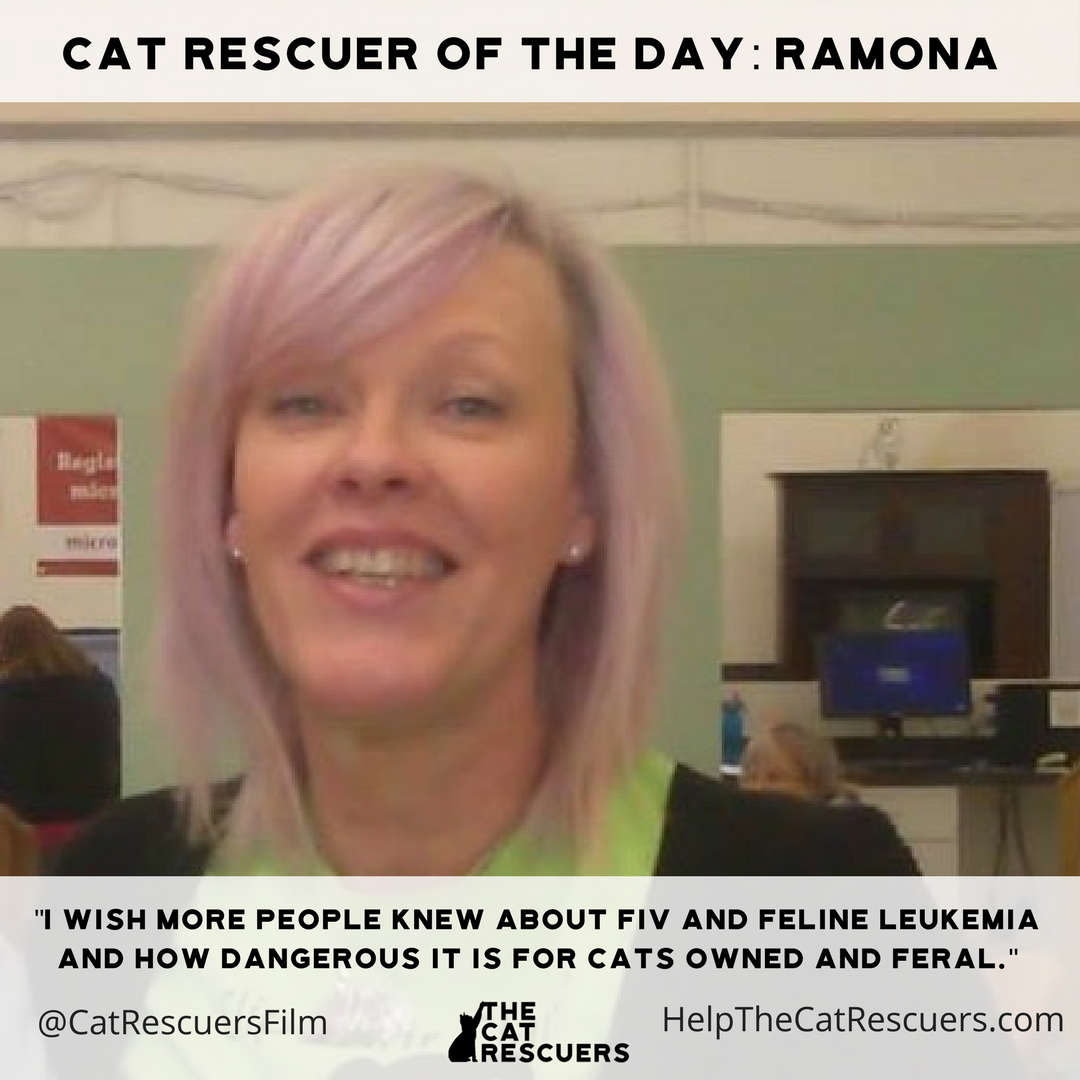 The Cat Rescuer of the Day
The Cat Rescuers is an upcoming documentary about four dedicated volunteers who are saving the lives of hundreds of abandoned and feral cats on the streets of Brooklyn. Check out our Kickstarter!
Our film calls attention to a global issue being addressed by thousands of organizers and heroic human beings – those who do TNR, volunteer at shelters, take on fosters, what have you.  Since we could only put a fraction of those wonderful people in our film, we've created the Cat Rescuer of the Day program to celebrate the efforts of as many as possible.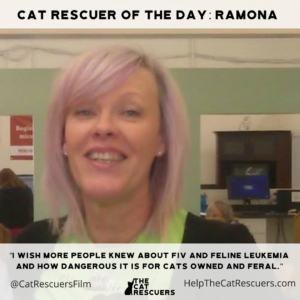 Meet Today's Rescuer: Ramona Hayes from Kansas City, MO!
Rescue Efforts:
I work for a non profit called Spay and Neuter Kansas City as I'm the TNR coordinator. Our TNR program was at a standstill about a year and a half ago. I was working at the front desk at that time and quite aware we needed to start getting back out there to TNR. I mentioned to a couple of clients who had brought in four ferals that were living in their backyard how big the need was, but there just was no donation or grant money to support TNR. When they came back the next day to pick up the last cat in their colony they handed me a check and told me to get back out there and do some TNR.
My work actually created my position of TNR Coordinator because they know it's a much-needed part of animal welfare. I've been doing TNR for a little over a year and although I love my job, I know it's a never-ending adventure and can be daunting at times.
One Rescue I'll Never Forget Was…
So hard to pick just one! A female Siamese mama of two kittens who really wasn't feral, just a friendly free-roamer. We got her kittens into rescue and it was nagging me that she would go back out even though she had a caretaker who truly cared for her, but was highly allergic. My boss contacted a lady he knew in a Siamese rescue, and they agreed to take her, ear tip and all. It was heartwarming and brought peace of mind to know that she would get a home.
One Thing I wish People Understood about Cats or Cat Rescuing Is…
I wish more people knew about FIV and Feline Leukemia and how dangerous it is for cats owned and feral.
When I'm Not Rescuing Cats, I Like to…
Spend time with my family and my six rescue dogs.

I'm Looking Forward to  The Cat Rescuers Film Because…
It will raise awareness to a noble cause!
If Someone Reading This Wants to Learn More / Get Involved, They Should…
Visit the Spay and Neuter Kansas City website (www.snkc.net)! Sign up to volunteer with our TNR program on our website. You can donate there too.
Go follow Ramona on Instagram (@hayesinkc and @spayandneuterkansascity). And be sure to follow @CatRescuersFilm on Facebook, Twitter and Instagram, and support our Kickstarter – HelpTheCatRescuers.com!
Browse previous Cat Rescuer of the Day Posts
---
Want to be Cat Rescuer of the Day?
Submit Your Answers Now to Be Featured!